Handrails: Kelvingrove Art Gallery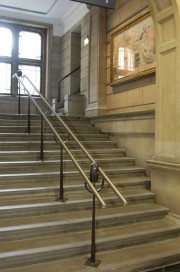 Handrails designed and made for the centre of two staircases in the refurbished Kelvingrove Art Gallery & Museum, Glasgow. Each handrail has a small sculptural object which nestles between the rails relating to the gallery subject in that particular area.
Material: Forged mild steel stanchions with stainless steel rails.
Date: 2006

Made in Scotland
Used in Scotland's New Building:
Phone: 0141 776 1379
Email: jgcreed@btinternet.com
Website: http://www.creedmetalwork.com
Address: 24 Auchinloch Road
Lenzie GLASGOW G66 5EU
Other products from John Creed Metalwork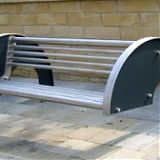 Public Seating
Gateshead City Council, Tyne and Wear commissioned seating and litter bins for the Old Town Hall Square. In consultation with the council these were designed to fit into the newly...

Screen art work
Gateshead City Council, Tyne and Wear 'Acceleration': A pair of screens for the Old Town Hall Square in Gateshead, Tyne and Wear. A public art commission designed to...
Back to Architectural Metalwork