Modulyss Carpet Tiles
Modulyss has focused their influence and strength as a manufacturer, on modular carpeting. Modulyss is acclaimed for their high quality and elegant designs, as well as sustainable manufacturing process. Their product range is mainly aimed at commercial spaces, large organisations, public spaces such as schools, universities, banks and offices, due to the practical installation and transport process. Modulyss aim to provide the customer with the necessary elegance and comfort through beautiful colour combinations as well as carpet structures and patterns that ultimately reflect and express the personality of the company culture. Modulyss has already supplied international airports, but also companies like Vodafone and Samsung. In a working environment or other public areas with heavy traffic, a badly chosen flooring can create additional disturbances that hinder efficient working. Carpet tiles reduce the noise of footsteps, which can greatly enhance office productivity. In addition, they capture dust particles that eventually leads to improving the indoor air quality. Aside from these advocating arguments, the whole act before and during installation is incredibly simple, compared to alternative methods of floor covering. Because of the size, the tiles are easy to store as well as transport and need less offcuts than carpet rolls. Moreover, the fact that they are loose-lay means, there is no need for permanent glue that ineffectively might damage the underfloor in the years to follow.
Phone: +441264 980370
Email: info@bricoflor.co.uk
Website: http://www.bricoflor.co.uk/
Address: 130 High Street MARLBOROUGH SN8 1LZ
Other products from Bricoflor Limited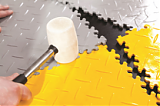 Garage floor tiles are categorised as heavy duty industrial flooring, capable of withstanding heavy loads, like fork lifts, trucks, etc. The garage floor tiles have clean and neat design to...
Architects all over the world appreciate the freedom, of design offered by the enormous variety of ceramic wall and tile products for a wide variety of applications – supplemented by...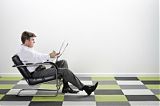 The top of the range carpet tiles from SCHATEX® stand for functionality, quality and design. The collections cover the entire spectrum from good value products for use in your living rooms, to...
Back to Flooring