Anatomies of Architectural Form
Date: 4 Nov 2017 - 26 Nov 2017
Time: 17:00 - 19:00
Town/City: Reid Ground Floor Corridor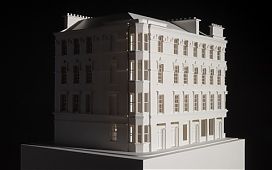 This is an exhibition celebrating 25 years of precision model-making in the Mackintosh School of Architecture (MSA).
The models form one option within the Stage 4 Research project as part of a self- directed studies project carried out by the students, in a topic of their choice, with contributions from their Academic supervisor and undertaken with the guidance, close supervision and assistance of Suzanne Dunscombe, Architectural Modelmaker.
Over the 25 years in which these have been produced at the Mackintosh School of Architecture, many models have been achieved to the highest industry standard contributing towards various exhibitions. This particular exhibition invites you to see 25 carefully selected models of buildings by various renowned architects as well as equally inventive independent models, driven by the individual student's determination and drive to creatively fulfil an inventive idea.
Architects and designers use models as an integral part of the process in the development of a design; from initial concept to final form. An accurate model can be a compelling medium through which to communicate design ideas in a way that the maker and viewer may fully appreciate nearly all significant aspects of a design: the volumetric organised functionality of spatial arrangements, organisation of sight lines and views; the differences that light introduces, forms and materials; or the overall balance of a design solution.
This research project offers an amazing means to more fully comprehend and understand the very essence of an architectural design and, in turn, through planning and constructing a model, the maker is exposed to new techniques, tools and materials, thereby gaining invaluable insights to fabrication and construction; through to the presentation of a finished model. Building a model is akin to the building process itself.
The role of research within architecture and architectural practice has changed over the years. More large architecture practices are developing research departments and research now features strongly in the approach of smaller innovative firms. Instead of waiting hopefully for clients, architects are using research as a way of expanding and changing the shape of their practice by opening new opportunities for their creativity; physical models are very much part of this activity.
Back to Diary