Andy MacMillan and Charles MacCallum sketch book exhibition
Date: 22 Apr 2017 - 30 Apr 2017
Town/City: Glasgow School of Art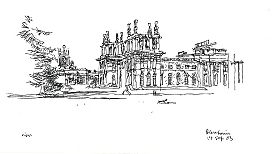 The GSA will showcase Andy MacMillan and Charles MacCallum sketch books in April as part of 2017 exhibition programme.
Running from 22 - 30 April 2017, the show will complement a book being jointly published by the Mackintosh School of Architecture, the Glasgow City Heritage Trust and Freight Books.
Professor Andrew MacMillan and Professor Charles MacCallum, two professors at the GSA Mackintosh School of Architecture, kept personal sketchbooks. It has been decided to publish some of these sketches, as they give an intriguing insight into how an architect thinks and what he observes, including how an architectural idea or detail may be developed. Some of the sketches are of every day scenes, some of buildings and details that the architect wished to record, and some are developments of building plans and sections where different possibilities were being considered. The exhibition, which will be curated by Robin Webster and the Mackintosh School of Architecture, will feature some of the sketches along with a selection of the 158 sketch books that are being donated to the GSA Archive by the architects' families.
Dates for Degree Show 2017 were also confirmed. The annual showcase of work by graduating students will run from 10 – 17 June with work by students in the Mackintosh School of Architecture shown in the Bourdon Building.
Back to Diary