Historic Buildings & Conservation
This category includes historic buildings and conservation projects
that have been completed since last May
. To find buildings from previous years please use the archive and search functions on the menu to the right.
Browse Buildings:
Buildings 1-1 out of 1 displayed.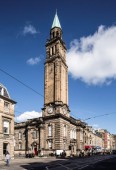 Lee Boyd were successful in a limited competition to provide architectural services for Charlotte Chapel who have moved to the vacant St George's West Church in the centre of Edinburgh. St George's West (A Listed) is an unusual...
Back to Scotland's New Buildings