The Old Schoolyard
The Old Schoolyard is a new villa in a conservation area just west of Edinburgh's city centre.

ZONE Architects' ambition was to create a contemporary home which matched the scale and grandeur of its neighbours, substantial
Victorian villas in an established suburb. Sited with an open, front garden which directly addresses the street, the building creates a
meaningful relationship with both its immediate neighbours and the wider locale.

The stone cubic form of the house has been conceptually distorted and then split to allow light deep into the stairwell at the centre
of the plan and down to the north facing front door on the lower ground floor. A restrained palette of high quality materials frame a
range of sun filled living spaces which directly address the south facing garden.

A starting point for imagining the form of the building was the recollection of the scale, weight and effort of extraction of a large block of hewn stone fresh from a quarry, a recollection of the tradition and history of stone quarrying essential to the construction of much of Edinburgh.
PROJECT: The Old Schoolyard
LOCATION: Edinburgh
CLIENT: Private
ARCHITECT: Zone Architects
STRUCTURAL ENGINEER: Harley Haddow
SERVICES ENGINEER: IKM Greenroom
QUANTITY SURVEYOR: CBA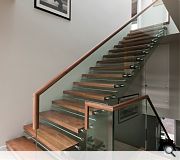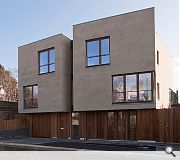 Suppliers:
Main Contractor: Peter Moran Ltd
Back to Housing